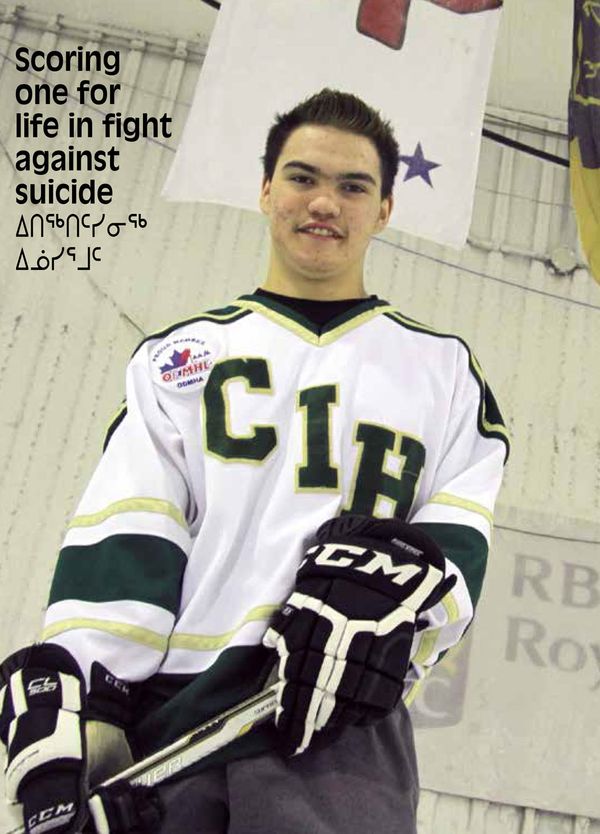 Darrell Greer/NNSL photo
From 
Kivalliq News
, April 2, 2014, Kivalliq, Nunavut, Canada
by Darrell Greer, Northern News Services
Like many in the Kivalliq, Kaelan Collier of Rankin Inlet knows the pain of losing a friend to suicide. 
But unlike the majority, Collier had the chance to participate in a project that celebrates life, and takes a swipe back at suicide through hockey, the performing arts and a message of love. 
Collier, 14, took part in the music video for Don't Stop Stompin,' part of the Hockey Project's Hockey is Great, Life is Bigger, while attending the Canadian International Hockey Academy in Rockland, Ontario, earlier this hockey season.
The project is the brainchild of Canadian singer/ songwriter Larry Pegg, who lost his 20-year-old daughter, Kelly, to suicide in December 2007.
Collier said being part of the unique hockey-meetsmental- health video was a great experience.
He said the 80 young players in the video took two days away from school to learn the featured dance steps.
"He (Pegg) also came to our school and gave some really good talks on how hockey will always be there for us, but life is the biggest thing there is," said Collier. 
"These days, having talks or presentations on suicide happens a lot. 
"But it has the most impact when a person who's been through it gets you into a group, talks to you about how hard it is to get over, and reminds you there's always someone who cares for you. 
"Life can be a challenge, and there's always going to be really rough spots, but you can overcome them." 
Collier said everyone loved working on the video. 
He said there were auditions held for the 20 or so in the video's lead roles, while the rest of the participants learned how to do the backing "stomp" dance. 
"This experience was a whole new bag for me. 
"It brought so much emotion to me because I've lost friends to suicide. 
"When he spoke to us about what he went through, it touched me deep down. 
"I'm not sure how, but it also boosted my self-confidence in being a hockey player." 
Collier said he was extremely happy when the video was released publicly. 
He said it was gratifying to see the finished video after working so hard on it. 
"I was so happy it got out and everything went as planned. 
"It came out on the date it was supposed to, and we were the first to see it before it went live." 
The video debuted in the arena of the Perth Blue Wings, a community of about 6,000 in southern Ontario still healing from the summer of 2011, when six male teenagers in Lanark County took their own lives during the span of a few weeks. 
Collier said he had a good feeling about the video from day one. 
He said the only part of the process he found difficult was when he first started learning the dance steps. 
"You had to move in a certain way and, if anyone messed-up, we'd have to start the whole set over again. 
"But I knew we'd get it right and the video would be good when it came out. 
"If he (Pegg) ever asked me to do something again with him, I'd do it in a heartbeat."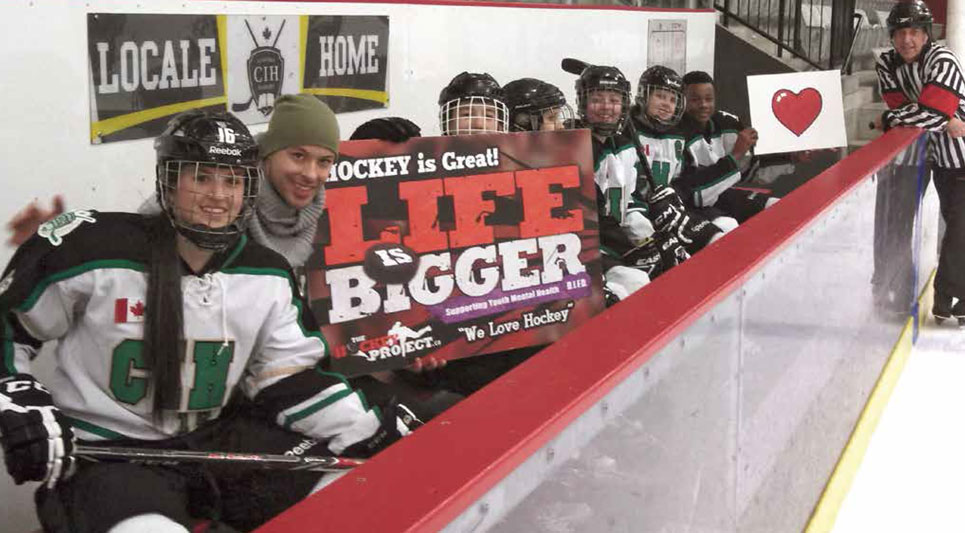 Singer‑songwriter and video referee Larry Pegg, right, joins, from left, Jenna Cholette, Eric Salvail, Cameron Pound, Edie Levesque, Anna‑Rose Bertin, Bobbi Strople and Rahjan Munnings of the Canadian International Hockey Academy to show all you need is love in Rockland, Ontario, this past month. Photo courtesy Larry Pegg